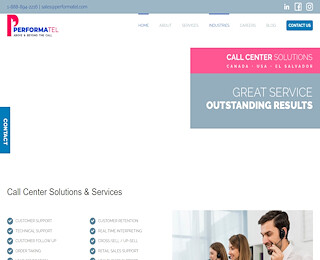 Performatel can provide an inbound call center to assist your company with overflow calls, busy-season calls, and live agent services that free up your employees to perform other tasks aside from answering your phone. Our Voice-on-the-Phone service is designed to offer affordable, clear communication between your company customers & clients and your brand. Reach out to a Performatel expert when you need help managing your inbound calls.
What is an Inbound Call Center?
When inbound calls become more than your receptionist or front desk staff can manage, hiring an inbound call center can significantly reduce costs and provide your callers with a better experience. Hearing a friendly voice on the line makes new and existing customers feel like they matter to your company- and it's never been easier to provide this service than it is today. Live agents from Performatel are trained to understand the services and products your company offers, offering an appropriate response to questions, concerns, customer feedback, and order requests.
What Are the Costs of Hiring an Inbound Call Center?
Performatel's services cost a lot less than you probably think- in fact, they'll most likely save you money every month. Compare the costs of our services with the rate of pay for a receptionist and you'll begin to see the savings involved in hiring us to create an inbound call center for your company. If you're interested in providing your callers with a first-rate call experience, without the need for background music, being placed on hold, or confusing communication due to a language barrier, give us a call to discuss an affordable monthly plan that includes customized services.
24/7 Call Response
Your callers will never have to listen to an answering service when they call after hours or wait on hold while your staff deals with another customer. Hiring Performatel means every caller is treated like they're your one-and-only customer or client. Preferential treatment is only one of the many perks your callers will notice when they reach out to you; your company's professionalism and commitment to quality care will shine through in every call.
Our staff will work closely with your company to train agents to respond to calls as if they were on your staff. Offering a clearer form of communication is just the start- we want to make certain we exceed your expectations from start to finish. Let us know how we can meet your needs, help you grow your business, and build a positive reputation that beats out all competition.
Additional Amenities
Trust Performatel with all of your inbound call center needs:
Multi-language communication
Knowledgeable, friendly live agents
AI options for after-hours
Order taking
Customer retention and support
Tech support
Live Chat & digital solutions
Voice of the Customer programs
Customer follow-up
Inbound and outbound call management
And so much more
Find out about an affordable plan when you call a Performatel agent today, or explore the resources on our website to learn more about our services.